Celebrating a Century of Monroe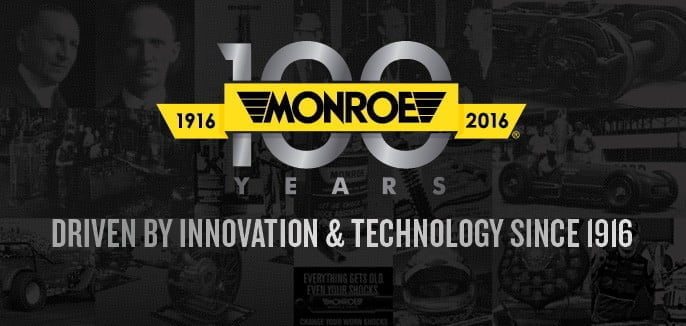 Monroe Shock Absorbers, one of the most respected brands in the global automotive and commercial vehicle industries, is celebrating its 100th Anniversary in 2016. Founded in 1916 in Monroe, (Michigan, USA), by mechanic and entrepreneur August F. Meyer, the business that eventually became Monroe Auto Equipment Company initially manufactured tyre pumps for the owners of early automobiles.
Meyer soon added a partner, local Dodge car dealer Charles S. McIntyre, whose industry knowledge helped cultivate demand for the company's self-oiled, single-barreled pumps. By 1926, Meyer Monroe Auto Equipment and McIntyre had turned their attention to a larger opportunity, the demand for increased automobile driver comfort and control.
Later that year they introduced the first Monroe "Shock Eliminator," which soon replaced the unwieldy carriage springs on many passenger vehicles. Nine decades and many millions of customers later, the Monroe brand has become a globally recognised standard of innovation and product excellence within the automotive ride control category.
Monroe Auto Equipment expanded to Europe in 1964. Australia, Japan and Mexico were next in 1972, South America in 1974 and Canada in 1975. Tenneco acquired the company in 1977, overseeing the development of several Monroe innovations for passenger vehicles, trucks, buses, four wheel drives and other special vehicle applications. The company introduced the automotive service industry's first gascharged replacement shock absorbers, Monroe Gas in 1982 and Monroe Sensa-Trac shock absorbers and struts in 1999. Monroe Strut-Mate complete replacement strut assemblies followed in 2003 and Monroe OE Spectrum shock absorbers and struts were introduced in 2011.
Monroe's centenary co-incides with the company's 44th Anniversary of Australian manufacturing and marketing operations, making it a true veteran of the Australian automotive industry. After establishing its Australian operations in 1972, the company acquired automotive suspension manufacturers W.H Wylie and Company in 1985. This spawned the localised brand identity "Monroe-Wylie", which became synonymous with premier aftermarket suspension replacement products throughout that decade.
In 1989 one of the company's most successful aftermarket products, the Monroe Strut-Mate was released, while in 1993 Monroe Max-Lift boot, bonnet and hatch struts became available in Australia. 1994 saw Monroe's Adelaide based manufacturing plant achieve ISO 9001 accreditation.
The new decade heralded new technical innovation with Monroe Reflex technology released in Australia, providing even higher levels of ride control and comfort in 2003. Two years later Monroe Gas Magnum TDT four wheel drive shock absorbers were launched in Australia. The end of the decade (2009) saw the introduction of the Monroe GT Sport lowered vehicle application range to broad customer, installer and performance vehicle motorist acclaim.
In 2013 Monroe Mounting Kits were released in Australia and in 2015 a new range of specially engineered, raised height Monroe Gas Magnum TDT four wheel drive shock absorbers was released. Beyond advanced technologies and best in class product performance, a core element of the Monroe brand's enduring success over the past century has been a uniquely strong connection with you – the professionals who specify, sell and install its products.