Trucking industry leader is taking on Australia's logistics and heavy haulage. While Monroe shock absorbers are more well known in family vehicles, Australia's heavy transport and logistics industry is a strategic focus for Monroe, and a solid opportunity for your company.
That's because Monroe already has runs on the heavy haulage board.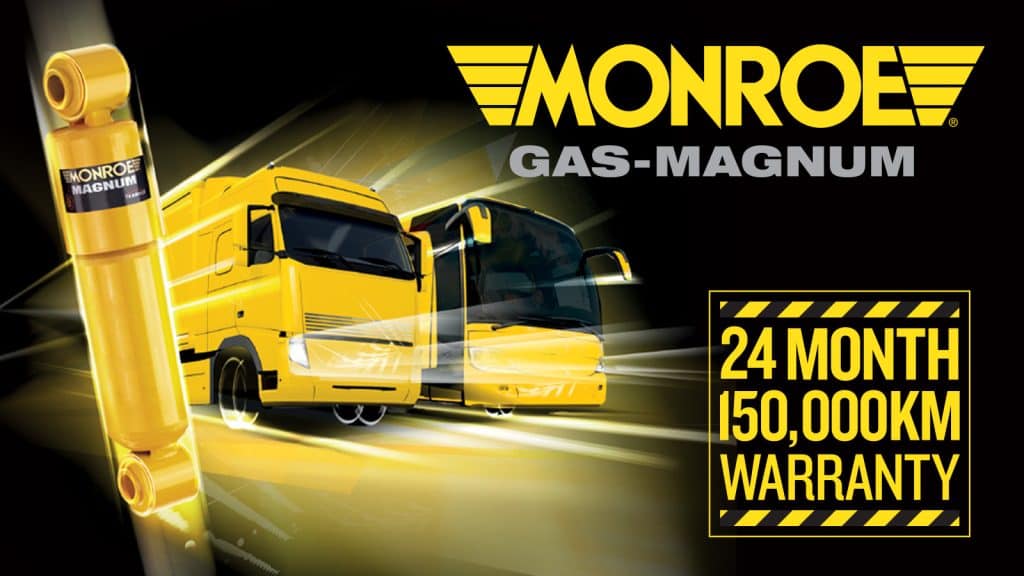 Monroe is the European original equipment supplier of choice for truck brands including CLAAS, DAF and Dennis together with Renault, Scania and Volvo. And this is why.
Monroe's world leading innovations in shock absorber technologies have resulted in market leading advantages, from cab to road, which we are now bringing to the Australian industry.
Across the key areas of Cabin Dampers, Seat Dampers and Axle Shock systems, Monroe can now promise you industry leading quality and performance followed up by second to none, after sales support.
Products and service that major European truck brands and transport corporations are benefiting from right now.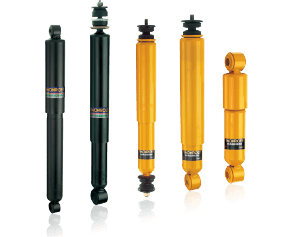 NEW PRODUCT RELEASE KENWORTH TRUCK DRIVE​
Shock absorbers engineered and manufactured in Australia with proven durability to improve your UPTIME.
High temperature fade resistant hydraulic fluid
Viton seal to withstand high operating temperatures
High durability bonded rubber bushing
Velocity sensitive damping eliminates harsh road inputs
Hydraulic lock-out piston
The Monroe Magnum Catalogue can be viewed by clicking here.
Rest assured, when it comes to support, Monroe Australia is committed to excellence in customer service.
A service that is unique to Monroe – Monroe's Technical Helpline – with advice and assistance on any Monroe product on 1800 088 205.
Just one of the ways Monroe will support you and all our transport customers, Australia-wide.
High Quality shock absorbers designed to resist wear while working longer at a higher degree of safety.
Single bonded bushing: very high durability of the bushing is achieved – makes shock installation easier.
High temperature resistant sealing system – maximises the durability of the unit.
Hydraulic lock-out piston: no over-extension of the air bag – eliminates external droop limiter.
High temperature resistant hydraulic fluid: semi-synthetic fluid improves the damping behaviour – more consistent damping over a wide temperature range.

Anti-wear coated piston ring: very high wear resistance of the unit – more consistent damping thanks to its sealing capabilities.
Double action valving system in bump and rebound: guarantees the good and safe handling performances of the vehicle – forces on chassis components are kept to a minimum.
24 months or 150,000 km warranty
You also get a 24 months or 150,000 km warranty, whichever comes first from date of purchase.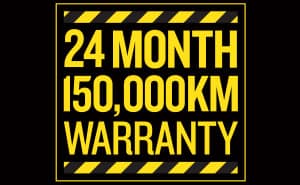 Leader in cabin shocks segment
Key coverage in axle shocks from trucks and trailers
New coverage in axle shocks for buses and coaches
Seat damper range unique to monroe® magnum
Continuously launching new part numbers
Conventional cabin shock
Coil spring cabin damper with integrated coil spring
Air spring cabin damper without air spring
Air spring cabin damper with integrated air spring
Over-shock air spring
Stand-along air spring
Lateral cabin shock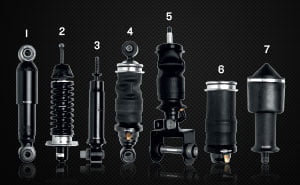 Axle Shocks (for trucks, trailers, busses and coaches)
These axle shocks for all kinds of commercial vehicles, transporting goods or people, feature some unique elements like "blow-off" valve and hydraulic stop, what makes them stand out versus any competitive product.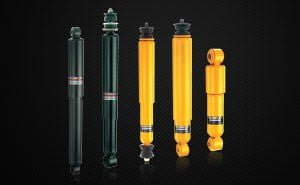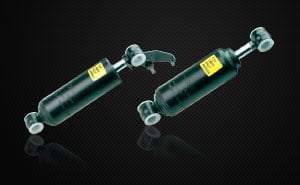 The truck driver's comfort is an important contributor to the safety on the road. Monroe is having a range of seat dampers that are compatible with the Isringhausen truck seats.
These shocks can be adjustable or not.