Number 1 For Aftermarket Shock Absorber Coverage
Monroe is the world leader in ride performance product design, manufacturing and development. The vast shock absorber application coverage offered by Monroe makes it the Australian automotive aftermarket's top choice, just as it is for automotive repairers all over the world.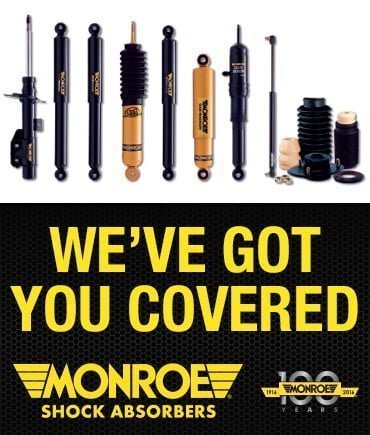 When you select Monroe ride performance products for your customers' passenger cars, SUVs, four wheel drives, light commercial and heavy duty vehicles, you are making the same quality choice that repairers, suspension specialists and resellers are making each day all over Australia and the world.
Monroe offers unrivalled premium quality replacement product coverage for shock absorbers and struts along with associated ride performance products. The breadth of Monroe's application coverage ensures that Australian repairers, suspension specialists and resellers always have fast access to the exact fit replacement products needed to suit the entire spectrum of makes and models being driven on Australia's roads.
Monroe's world leading global research and development has resulted in a number of damping technology advancements that have been promptly delivered to the local and global aftermarket. As more Australian motorists select performance, recreational or commercial vehicles not only from Europe, but also from Asia and North America, they also become accustomed to the levels of handling, steering and braking response that these vehicles offer. For many, owning a European marque or a high performance Asian or North American vehicle is all about safety, handling, engine performance and comfort. But above all of these important factors is the overall driving experience that these vehicles provide.
In this day and age of highly advanced motor vehicle design and levels of performance, particularly considering the number of highly engineered European vehicles on Australia's roads, a "one replacement shock absorber fits all" solution is far from ideal. These products use a single design that is expected to cover the specific damping requirements of vehicles of differing weights, performance characteristics, front, rear or all-wheel-drive power trains, differing wheel and brake sizes and specifications along with Australian driving conditions.
Monroe's integrated global engineering and manufacturing facilities around the world include the company's Australian manufacturing plant in Adelaide. Monroe uses the advanced engineering and testing capabilities of these world leading manufacturing facilities to ensure product reliability, endurance and performance for each global aftermarket region, including regional vehicle application specifics.
As an Original Equipment supplier of choice to the many of the world's leading automotive vehicle manufacturers including Audi, BMW, Land Rover, Mercedes-Benz / Mercedes-Benz AMG, Daimler, Opel, Citroen, Peugeot, Renault, Saab, Vauxhall, Volvo and Volkswagen, Monroe offers the unique advantage of vehicle application specific shock absorber valving technologies resulting in "as new" vehicle ride comfort and handling.
With regular shock absorber checking and replacement with quality engineered Monroe ride performance products, motorists can expect unparalleled standards of vehicle safety, ride control and handling excellence at every stage of a vehicle's life, not only when the vehicle is new.