BECOME A MONROE SAFETY SPECIALIST
A STRONG SUPPORT TEAM YOU CAN TRUST
WHY SIGN UP TO THE MONROE SAFETY SPECIALIST PROGRAM?
You've come a long way and you're about to go a lot further in becoming a Monroe Safety Specialist. This invitation to join our global network of certified Monroe Safety Specialists will give you new strengths with all kinds of benefits.
For just $75 a year, you'll be joining our ever-growing number of expert fitters and stockists, with the potential to become one of this group's strongest partners.
Just like our shockers, this is a full partnership deal that's built to last and comes with everything you need, including the confidence in knowing you will be offering the most trusted driving products that money can buy.
By stocking the world's leading shock absorbers, this value-added membership exposes and promotes your business as a fully certified Monroe fitter and stockist.
And as the world's leading shock absorber manufacturer, your customers will know that you're a Monroe Safety Specialist who cares about their customers' road safety. Which means you can display your membership with total partnership pride and use our free point of sale material with total confidence.
So, when we talk about "partnership power" you'll know we're talking about power to you, plus our support as a Monroe Safety Specialist.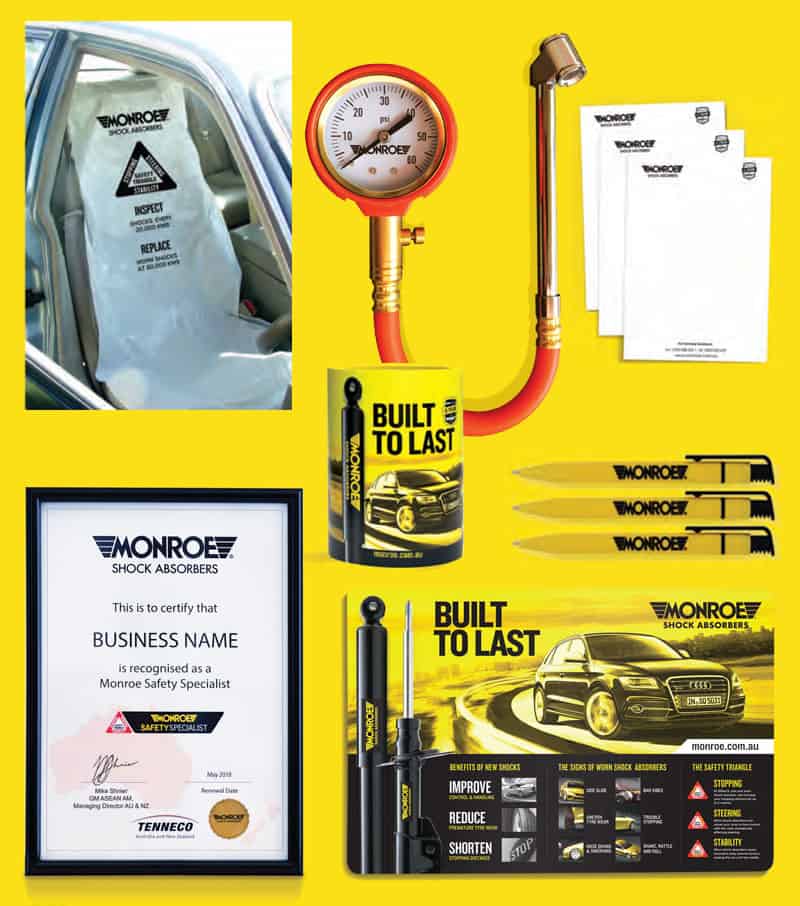 RAISING THE BAR ON QUALITY MERCH
To ensure your customers know that you're backed by an ever-growing worldwide partnership, our premium merchandise packs come standard. As a key supporter of your business, we've got you covered with everything you need to build customer confidence in our world-class products and your personal touch.
1 x Counter Mat

3 x PADS

25 x Seat Protectors
3 x Pens
1 x Framed Certificate
1 x Stubby Holder
1 x Tyre Gauge
GROW RELATIONSHIPS THAT GO THE DISTANCE
Monroe offers you a global network of knowledge and the local know-how to benefit your business objectives. With a direct link to the latest product advancements combined with real local partnerships, Monroe gives you the expertise to meet customer expectations at every level.
We're confident that Monroe's marketing, advertising and sales expertise will draw new business to your door, effectively paying for your investment with the first booking.
BE SEEN – The online Monroe Dealer Locator promotes your business on the Monroe website.
NATIONAL CRED – Top level proof that you recommend and fit Australia's leading and most trusted shock absorbers.
DATABASE SUPPORT – Monroe's technical database for fast solutions that showcase your expertise and build customer confidence.
ONLINE COMMUNITY – Free membership and strong presence on Australia's leading online mechanic community at www.mechanic.com.au, valued at $195 per year. More information below.
SALES READY CUSTOMERS – Monroe has 24/7 access to customers who are eager to buy through recommended businesses like yours.
WEB & MOBILE ACTIVITY – Your contact details, location, services and photo. A new, easy and inexpensive tool to boost your business.
MARKETING SUPPORT – Absolutely free marketing materials that are ready to go. Rest assured, when you become a Monroe Safety Specialist, our team will deck out your worksite and have you ready to go with high quality point of sale materials and other support gear to help build customer confidence.
TARGETED CAMPAIGNS – Regular print and online campaigns placed in reputable trade and motoring publications along with seasonal special offers will direct customers to their nearest Monroe Safety Specialists via the online Dealer Locator, to help find you with ease.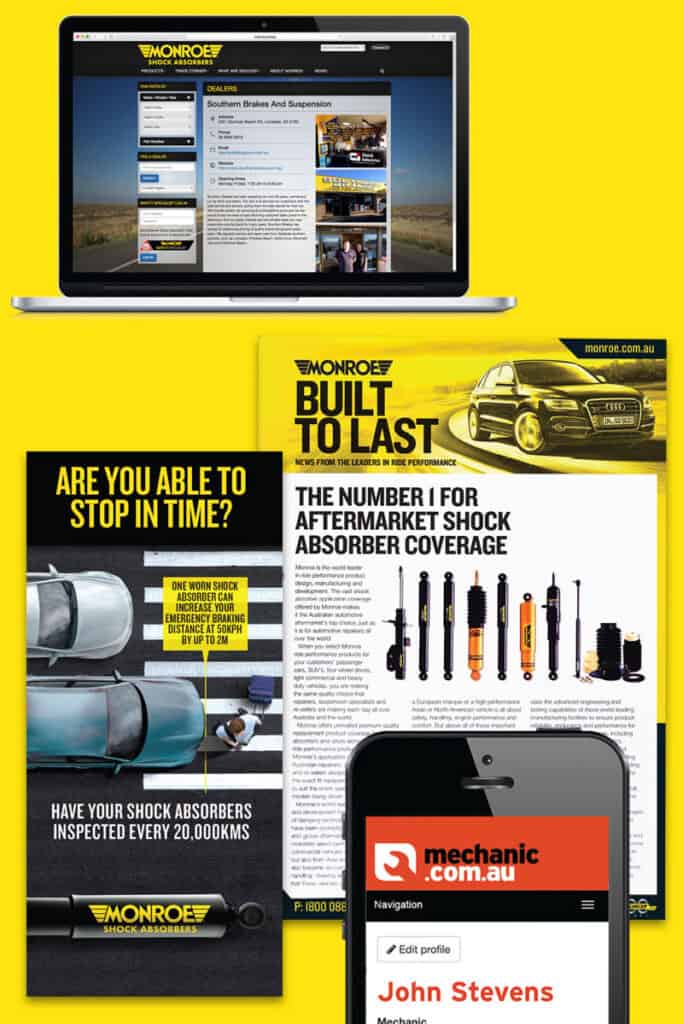 YEAR-ROUND SUPPORT WITH INCENTIVES
Monroe Safety Specialists win a big share of giveaways designed to attract new business and support additional sales throughout the year. Plus, because we like to show our full support of partners, random draws could see you picking up awesome partnership prizes too!
MONROE BAR STOOLS – Limited edition Monroe OESpectrum bar stool – perfect for your man cave.
MONROE MERCHANDISE – We've got a swag full of caps, polo shirts, coffee mugs, backpacks and more.
MONROE BEACH CRICKET SETS – Play the country's greatest game with the country's greatest automotive brand.
MONROE MONEY CARDS – It's exactly like free money – and it's for you to spend.

The value offered to you by the Monroe Safety Specialist program this year is the best we've ever provided to our growing group of automotive repairers and suspension specialists.
Don't miss out on the benefits to your business that this exclusive program offers.
To become a Monroe Safety Specialist, or to renew your annual membership, please contact your Monroe Territory Manager, call Monroe Australia Customer Service on 1800 088 205, or register NOW using our membership form.
MONROE SAFETY SPECIALIST PROGRAM BROCHURE